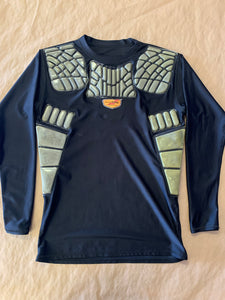 7 pad goalie shirt with protection on clavicle, upper sternum, ribs, and extra pec, pads.

Protects key areas up high.
ONE of these is available.
Notes:
It is being discounted heavily only because of its discoloration.
The garment and pads are in game ready order, and never worn.
Only the clear outside polyshield material is discolored. The protective Zoombang polymer is not
——
What you still get:
Agility and freedom of movement.
The best polymer on the market
lightweight, breathable moisture wicking garment.
Trusted and used by goalies everywhere.
Absorbs up to 90% of impact. You are protected.
"...he wears it everyday. He absolutely loves the shirt and it's helped him with the stingers he used to get."
Feedback I get from ATs and Equipment Managers is usually some variation of that.
THE RAW POLYMER - Watch how it absorbs energy!