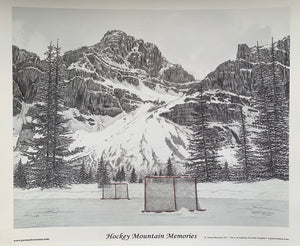 limited edition print
1799 signed and numbered prints
$47.00 cdn
This drawing highlights two hockey nets in red on a small pond rink set against a snowy peaked mountain backdrop. To the pencil artist, Jeremy Bresciani, it represents the sport of hockey in its ideal setting.  To you, it may bring back some very happy childhood memories of playing hockey on a pond just like this, nestled in a mountain setting.  To others it may conjure up Canadian imagery, or remind them of a popular brand of beer.  No matter what it represents to you, Jeremy Bresciani hopes it brings a smile to your face today.  
These 12"x15" Limited Edition prints are individually signed and numbered out of 1799 to commemorate the first recorded instance of the use of the term "hockey".
This product is available framed as well.
UNFRAMED $47.00