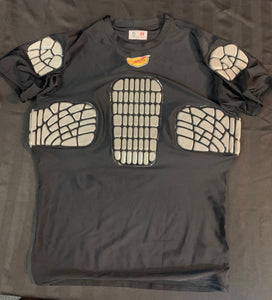 ZB - 5 pad protective shirt with protection for the deltoids, sternum and ribs.
Black, short sleeve, adult XL
Two of these in stock.
NOTES: This was an order of custom garments. Two were extra.
Your chance to take advantage and save.
Never worn.
Protects key areas.
Agility and freedom of movement.
The best polymer on the market, lightweight, breathe-able moisture wicking garment.

Absorbs up to 90% of impact.
You are protected.
THE RAW POLYMER - Watch how it absorbs energy!