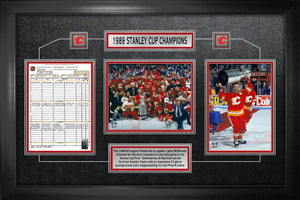 Calgary Flames Framed Scoresheet Collage - 1989 Stanley Cup Champions
This commemorative 1988-89 Stanley Cup frame showcases two 8"x10" photos, and an exact NHL licensed replica copy of the scoresheet from the final game in 1989. The descriptive metal plate at the bottom of the frame recaps the glory of the championship and reads: "The 1988-89 Calgary Flames led by captain, Lanny McDonald, defeated the Montreal Canadiens' in the sixth game of the Stanley Cup Finals. Defenseman Al MacInnis earned the Conn Smythe Trophy with an impressive 17-game scoring streak and a league-leading 31 total playoff points.
The frames are a part of a four frame collection that showcases all of the most recent Stanley Cup victories for Canadian NHL franchises.

Framed Size 25" x 36"

$219.00 cdn